Mutants of the World
As modern methods of genetic manipulation become more commonplace, we endeavor to chronicle the most interesting, helpful, or artful examples of the craft of genetic manipulation.
Aunteater
Although genetic manipulation is common among mad scientists, we have feared encouraging the efforts of such people. The popular press has made a great deal about this killer mutant mammal, since it is on the loose. We note only that it took very little to change the common anteater into a flesh-eating monster.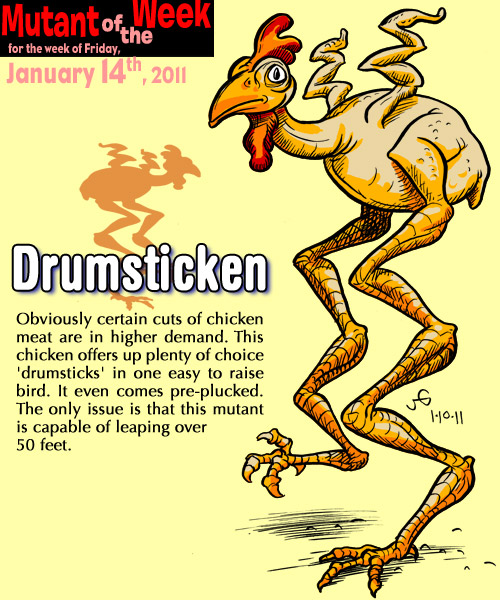 Drumsticken
Obviously certain cuts of chicken meat are in higher demand. This chicken offers up plenty of choice 'drumsticks' in one easy to raise bird. It even comes pre-plucked. The only issue is that this mutant is capable of leaping over 50 feet.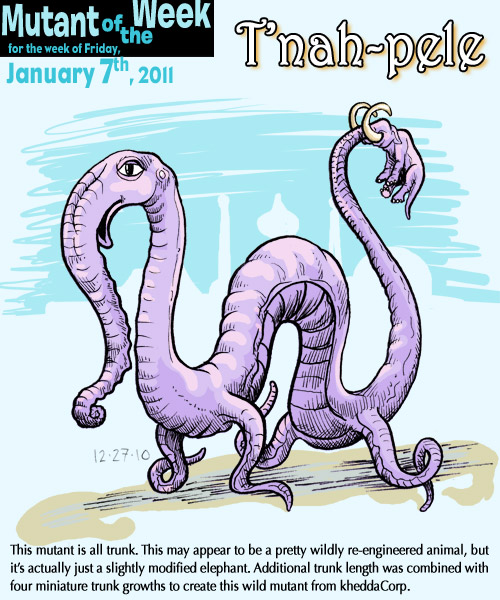 T'nah-pele
This mutant is all trunk. This may appear to be a pretty wildly re-engineered animal, but it's actually just a slightly modified elephant. Additional trunk length was combined with four miniature trunk growths to create this wild mutant from kheddaCorp.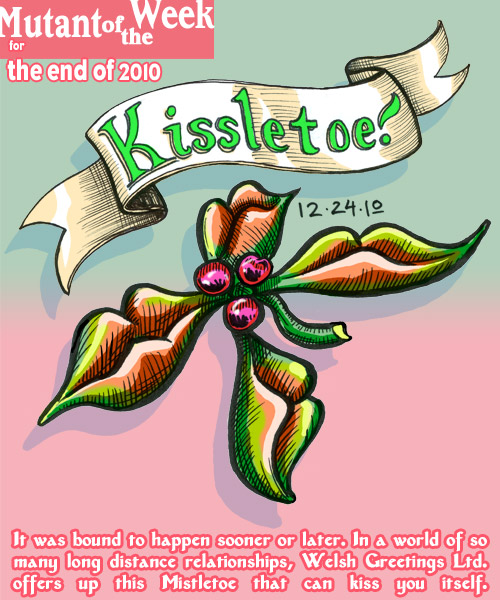 Kissletoe
It was bound to happen sooner or later. In a world of so many long distance relationships, Welsh Greetings Ltd. offers up this Mistletoe that can kiss you itself.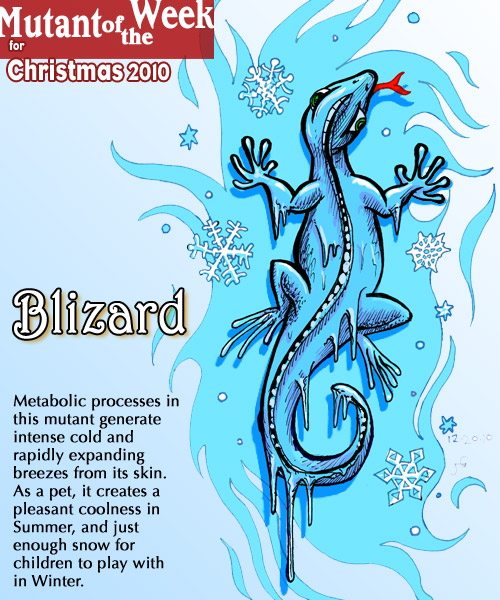 Blizard
Metabolic processes in this mutant generate intense cold and rapidly expanding breezes from its skin. As a pet, it creates a pleasant coolness in Summer, and just enough snow for children to play with in Winter.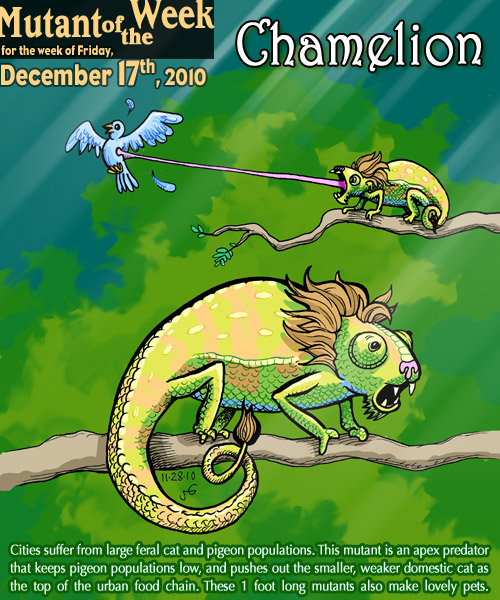 Chamelion
Cities suffer from large feral cat and pigeon populations. This mutant is an apex predator that keeps pigeon populations low, and pushes out the smaller, weaker domestic cat as the top of the urban food chain. These 1 foot long mutants also make lovely pets.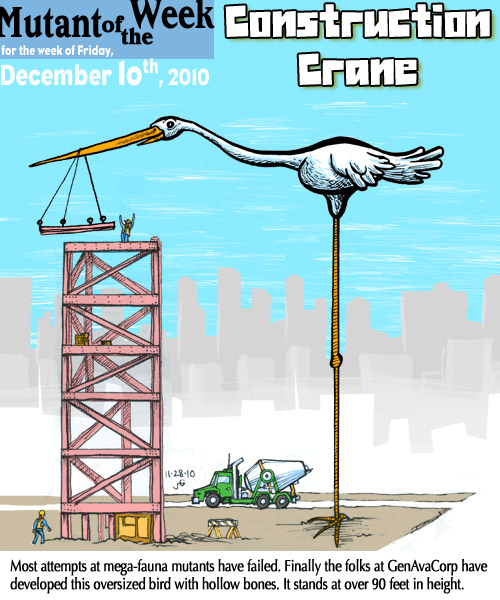 Construction Crane
Most attempts at mega-fauna mutants have failed. Finally the folks at GenAvaCorp have developed this oversized bird with hollow bones. It stands at over 90 feet in height.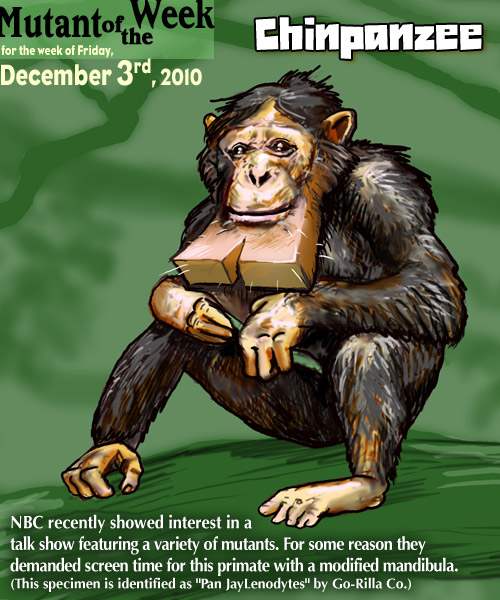 Chinpanzee
NBC recently showed interest in a talk show featuring a variety of mutants. For some reason they demanded screen time for this primate with a modified mandibula. (This specimen is identified as "Pan JayLenodytes" by Go-Rilla Co.)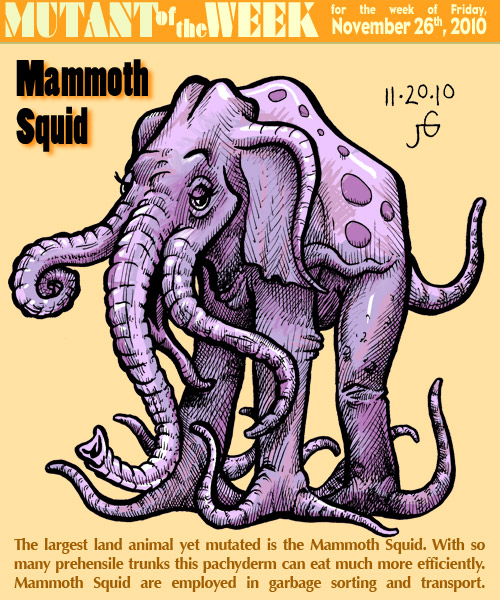 Mammoth Squid
The largest land animal yet mutated is the Mammoth Squid. With so many prehensile trunks this pachyderm can eat much more efficiently. Mammoth Squid are employed in garbage sorting and transport.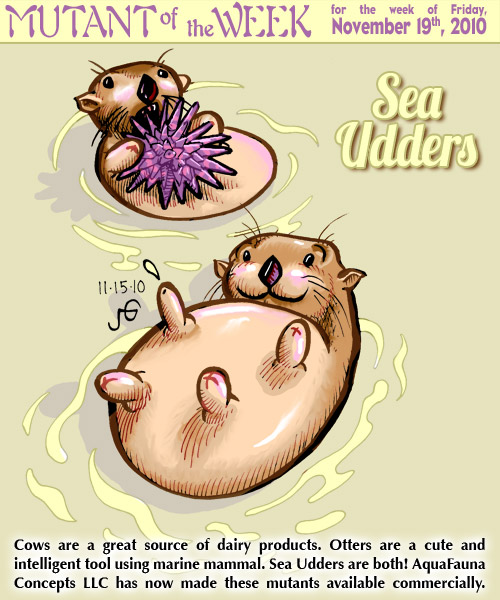 Sea Udders
Cows are a great source of dairy products. Otters are a cute and intelligent tool using marine mammal. Sea Udders are both! AquaFauna Concepts LLC has now made these mutants available commercially.